Hunting, Bird Dog, & Gun Dog Training in Austin, TX
Curiosity killed the cat as the saying goes. It also kills dogs that are curious about snakes. Dogs have no natural fear of snakes, so when a dog encounters one his first instinct is to get close and smell it. He wants to investigate, which is why so many dogs are bitten on the head, chest and face. Even after being bitten, most dogs don't consider a snake to be a bad thing. They are not "snake-proofed."
The pain comes so much later it is not connected to the snakebite at all. Sometimes referred to as "snake-proofing," or "snake-breaking," Winter Kennels has been doing snake avoidance training — along with bird dog training and gun dog training — for over three decades. It only takes a short time to make your dog aware that snakes are BAD, and that can save your dog's life and possibly your own. Take the time to protect BOTH of you and call Winter Kennels today at 512.263.2416 to schedule a snake avoidance training session.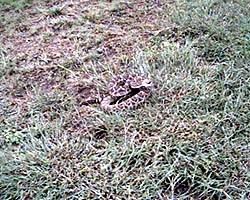 This is how we see a snake (still tricky)…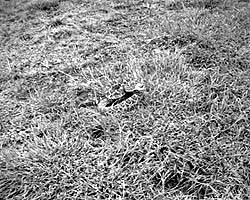 but your dog only sees in black and white.
Dog snake training
Winter Kennels trains individual dogs, all the dogs in one household, and also groups, including clubs. Just let us know your particular needs. While Winter Kennels has done snake avoidance training for dogs of all kinds: any breed can be trained, so call us about protecting your pet, too-if you live where snakes do, the danger is real. Winter Kennels offers rattlesnake dog training in Austin and Central Texas to prepare you and your dog for the worst and help them avoid it.
The cost is currently $60.00 per dog/per snake, and we have available a rattlesnake, a cottonmouth water moccasin, and a copperhead (that all have no venom). You may choose one, two, or all three snakes depending on where you live and hunt. We offer three FREE refresher clinics for aversion training for dogs for anyone who has had his pet "snakebroke" by Winter Kennels (we don't honor those done by anyone else) one in the spring, one before dove season opens and one before quail season opens, from 9:00 am to 12:00 pm. We also take new dogs on refresher days at the usual charge. Private refreshers (not on the three free days) are $40 per dog per snake.
A full range of capabilities
Snake avoidance:

Dog snake training starts as young as 4 months. Appointments can be made year-round. There is rattlesnake dog training, cottonmouth water moccasin training, and copperhead training (that all have no venom).

Training retrievers and pointers:

All pets must be no younger than 5.5 months and up-to-date on their shots, such as kennel cough and rabies.

Facility amenities:

When the hard training is over for the day your pets can cool off in the lake or pond for water work.

Boarding:

Our kennel offers outdoor boarding for our clients; not open for the general public.

Obedience training for hunting dogs:

We offer obedience training as a starting point for hunting dog training to get the ball rolling.
---
Winter Kennels' extensive history in training dogs has garnered positive attention. Our canine students go on to do some great things!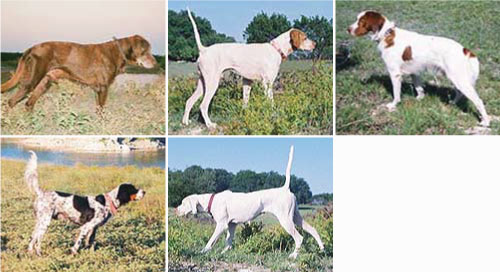 fill it out with your name on the top line, followed by your dog's name and breed below. Please bring this form with you to your appointment
*Cash or Check only, NO CREDIT CARDS.
For more information about snake training for dogs in Austin, Cedar Park, Round Rock, West Lake Hills, or Bee Cave, TX or to inquire about any of our training capabilities or services, please contact us today at 512-263-2416.